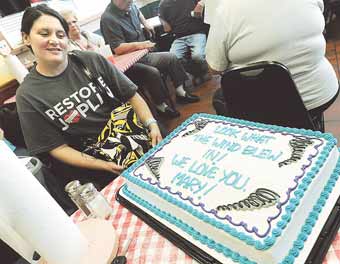 May 22 was not Mary Burlingame's day to die.
Perhaps the marquee outside Curbside BBQ in Pittsburg said it best: "Mary 1, tornado 0."
On Saturday, she didn't mind retelling her story during a surprise gathering of friends and family at the restaurant.
As she told her story, she was calm and collected. There were no tears. The only evidence of her trauma were two scars on her face. Her worst injury, a severe wound to her back, was concealed.
In addition to owning Curbside BBQ, her parents, Maggie and Bill Burlingame, own the Nutty Bavarian cart at Northpark Mall in Joplin, Mo. Mary Burlingame was managing the cart on May 22 when a security guard warned people to get to shelter.
Unknowingly, she would drive into the path of the tornado.
"I got to 20th Street, heading home to the 2400 block of South Joplin Avenue right behind the Salvation Army, and the traffic lights went out," she said.
She was excited to get home to bake cookies in her new kitchen. She and her father had worked three years to remodel her first home. They had installed the finishing touch — new countertops — the day before.
"I was excited that when I got home I wouldn't be living in a construction zone anymore, that life could get back to normal," she said.
She drove into heavy rain, slowing to a crawl because of poor visibility.
'A black cloud'
"I turned onto Delaware, thinking that I'd avoid hail, and immediately saw the debris, a black cloud, roll in," she said. "Then my car windows blew out, and I unbuckled my seat belt thinking I'd run for a ditch. But the door swung open, and I was pushed right out into a curb and along the street, and limbs were hitting me and power lines fell down around me.
"I remember waving my hand above the debris thinking maybe someone would see. It seemed like forever when a gentleman helped me up. I don't remember screaming. The only pain I felt was my face, which was cut, and I saw blood on my shirt and hands."
She asked the stranger if he could retrieve her purse and backpack from her mangled car — she knew she would need her identification — and a cellphone so she could let her parents know she was OK.
"He asked if I wanted my garage opener, so I said 'yeah,' not thinking my house would be gone," she said.
Then she started walking.
"I knew I needed to get out of there if I was going to survive," she said. "I was bleeding, and I needed help."
What Burlingame didn't know was that she had a gaping wound in her back that was large enough to accommodate a woman's fist.
She made it to 20th Street and Connecticut Avenue, stopping each car she saw along the way, but none had room.
"The fourth car was a couple named Jeff and Tawn," she said. "She jumped out and wrapped me in a blanket and put me in the car, and drove me to Freeman (Hospital West). When I got out, I asked her to look at my back because it was starting to hurt, and I saw a huge spot of blood on the seat in the car."
Tawn saw to it that Burlingame got help in what had become a chaotic scene in the hospital's emergency room.
"There were makeshift gurneys. There are just no words to describe," Burlingame said. "I sat there and just waited for Mom and Dad to come."
Parents on a mission
Her parents had been catering a high school graduation party at Curbside BBQ. They dropped everything and headed to Joplin. They made it to 32nd Street and Schifferdecker Avenue but could go no farther.
"We got out, left our car, and started climbing over debris and electrical lines, but for those two miles I was focused," Maggie Burlingame said. "I was headed there, and nothing was going to stop me. I was frightened, but I swallowed my emotion."
Maggie Burlingame had been in a somewhat similar position before. On New Year's Eve in 1985, she was working at the Joplin post office at First and Main streets when she went into labor. She delivered Mary Burlingame the next day — two months early — at Freeman Hospital.
"That night, after the tornado, I told a nurse, 'I brought her into the world at this hospital, and I will not let her leave the world here," she said.
Mary Burlingame said that during her treatment, the medical staff "pulled a chunk of wood, debris, gravel, leaves, parts of shingles" out of her back.
"The pointer finger on my right hand was filleted open, my knee was open, and over 80 percent of my body had bruising on it," she said.
Her mother said: "Debris was so bad on her head that it was matted 2 inches thick. Her ears were matted with it, and her fingertips were black from holding on."
Mary Burlingame's brother Charlie, boyfriend Kyle Raley and her mother bunked in her hospital room in sleeping bags for several days to give her the emotional support and care they thought she would need.
No one told her about the loss of her home.
"I think it was a blessing I didn't know what was going on," she said. "I had too much on my plate."
Through it all, Mary Burlingame did all she could to learn the extent of her injuries, including asking physicians for photographs so she could see the wound to her back.
"I wanted to know what was causing me pain and exactly what I was dealing with," she said.
She had three surgeries. Her back wound remains open. But by Saturday, she was strong enough to return home to Pittsburg.
Before they left Joplin, her mother drove her through her neighborhood.
"She just shook her head and said, 'Mom, I don't know how anyone could have survived this,'" Maggie Burlingame said.
'Simple things'
Maggie Burlingame's longtime friend Jonelle McMurry was one of several who gathered to welcome Mary Burlingame home Saturday.
"She's shy, quiet, but I think she's a whole lot like Maggie," McMurry said. "When there's a challenge, she'll come out the winner. God gave her the strength to get through it."
Mary Burlingame's plans are uncertain, but she's fine with that.
"Before, my plans were to just be," she said. "To just bake in my own kitchen, to enjoy what I had. Life can be so chaotic, working, being busy. It's just good to have simple things. Now, after all this, my plans are still that. To enjoy simple things. I just want to bake cupcakes."
About her scars, she said: "At first I thought, 'Oh, I hope these heal.' But the more I thought about it, I thought if I end up with them forever that will be OK, because I have a story to tell. I'm a survivor."
Original Article Written by Andra Bryan Stefanoni, The Joplin Globe
http://www.joplinglobe.com/news/local_news/woman-s-scars-tell-story-of-survival/article_8499e983-f0e8-5327-ad1e-c3978d18919e.html